Kinky is a modified/hacked client for Minecraft. This Minecraft hack / cheat comes with lots of features. For example you can use the Xray to find diamonds, bow aimbot in PvP and movement hacks to move faster or even fly. See the full features list below. Like most other hacked clients, this also works online on multiplayer servers, both vanilla and modded servers.
Use Kinky for:
PvP: with lots of combat features you will pwn everyone else !
Griefing: make the kids cry with all the griefing options.
Utility: many other features may come handy for you.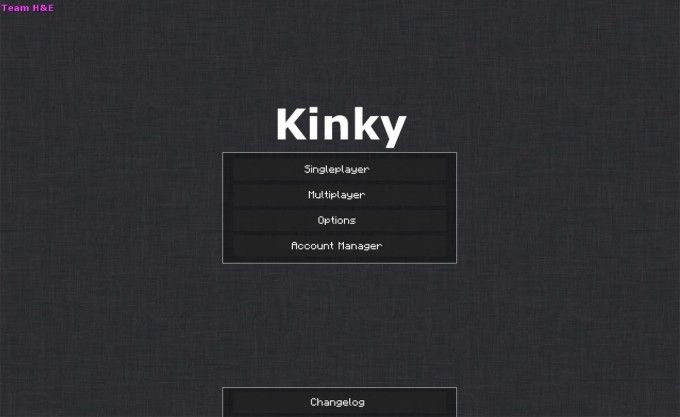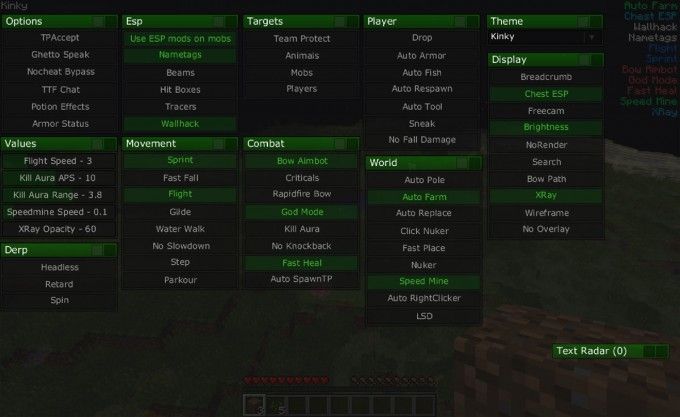 How to use
Menu / GUI = Right CTRL
Command: .help
Commands:
.alloff
.bind
.help
.toggle
.friend
.insult
.pickupline
.vclip
.getid
.teamprotect
.stp
.say
.search
.setautorightclick
.waypoint
.xray
Use at own risk! You risk getting banned from servers when using cheats and hacks. Read the server rules, if cheats are not allowed, please respect this. Some servers has mods installed that can detect cheats such at fly and xray.
How to install Kinky Hacked Client for Minecraft
Download and extract the zip file.
Close Minecraft (if open).
Navigate to the "%appdata%/.minecraft/versions" folder.
Move the "Kinky xx" folder to your versions folder. The client folder should contain a jar and a json file.
Start the Minecraft launcher.
Click "New Profile", set the "Use verison:" to "release Kinky xx".
Click "Save Profile".
Choose the newly created profile and enjoy!
Download